A group of 9 African American Investors have arrived into the country and are set to invest over Shillings 1.1tn in the health sector specifically to set up a Neurosurgery centre as well as dealing in real estate development.
The delegation has been ushered into the country by Isaac Kigozi the Managing Director East African Partners a company that has championed marketing East Africa's vast investment opportunities to the outside countries.
Kigozi told the media at Entebbe Airport on Friday that the team of investors is ready to work with Government and other Ugandans and will be soon meeting with President Museveni, Minister of State for Investment, Evelyn Anite and other Ministers.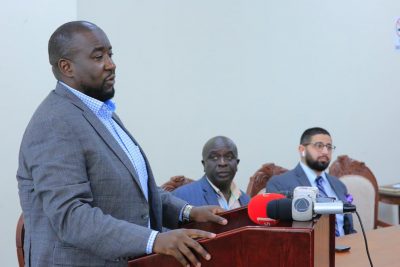 "The delegation told me that government has done enough opening up doors to them and are now looking at what they can do for the government and the people of Uganda. This is exactly what enticed me to bring them to Uganda because they are not looking for free this, free that," Kigozi explained.
Kigozi noted that the team is in the country on a fact finding mission and are ready to share the business knowledge they have been blessed with in America to be able to impact the country's young population of men and women who are eager to take Uganda to the next industrial revolution.
The delegation of investors led by Mark Anthony Hernandez was received at the Airport by the NRM Diaspora League Chairman, Hajji Abbey Kigozi Walusimbi.
Walusimbi welcomed the investors and assured them of a peaceful and secure environment that neccesitates any economic growth.
"As the NRM Diaspora League we were asked by the President to encourage investors into our country and this is exactly what we are doing. The President is awre of your coming and will at an appropriate time meet with you," Walusimbi said.
According to Mark Anthony Hernandez, the delegation is ready to among others set up a Neurosurgery centre, invest in real estate as well as setting up a market strategy that will help market Uganda abroad by improving its image.
"We are a delegation of African Americans from California interested in bringing back African American dollars to Africa; what we are focusing on in this particular trip is health care and real estate development and we are looking at investing 300m dollars," Hernandez said.
Other members of the delegation included; Micheal Broughton, Smith Mitchel Veronica Ann, Gabhart Mark Thomas, Abdeljawad TareqZiad, Ebinu Julius Okudu, Vang-Khamphoumy Pa, Ming Joseph Albert and Charles Chang-II.