Miss Uganda North America, Vanessa Nansamba and Miss Oregon USA, Katerina Villegas have arrived in the country for the third 2020 Cares Tour of Uganda organized the Miss Uganda North America Foundation.
The duo who arrived in the county over the weekend have been joined by Uganda's Miss Tourism, Phiona Kyeru will be visiting Murchison Falls, Buganda Kingdom for cultural tourism as well as conducting multiple charities.
The President, Miss Uganda North America Foundation, Tibba Murungi Kabugu said that the Beauty queens will be in the country for a full week and will carry out a number of activities.
Murungi said that the beauty pageant is aimed at paving way for more women in leadership and also help them build their platforms which they can use to achieve their goals.
"When we crown the winner during the UNA Convention, we bring her to Uganda to what is called the Miss Uganda Northern America Cares Tour were she gets a chance to tour different parts of the country," Murungi said.
Murungi said that the winner is an automatic ambassador of Uganda's tourism and is obliged to sell Uganda to North America and eventually globally.
"When she comes home, she gets to visit the national parks and the tourism sites in the country so that she can market Ugandans tourism destinations to the rest of the world," Murungi said.
Murungi said that during this year's Cares tour, the beauty queens will be doing charity work and will visit The Remnant Generation a home for teen mothers and will be donating equipment that would help in income generation.
The Foundation Communication Officer, Julius Kabugu added that the team shall as well visit Katanga Slum and will participate in education and cleaning up activities to encourage a culture of proper sanitation in the community that leaves in abject poverty.
"We will also be donating sanitation materials and garbage collection bin to improve sanitation in the area," Kabugu said.
Miss Uganda North America, Vanessa Nansamba appreciated the foundation for creating for her time to return home and promised to use her crown to inspire more girls in the country as well as fighting stigma around mental health.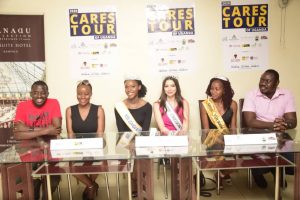 "I look forward to introducing mechanisms of handling mental health issues in my home country, I will use my crown to discuss mental health among teens, to do advocacy about mental health and making initiative on different bills," Nansamba said.
Miss Oregon USA, Katerina Villegas who is also a Psychiatric student said that her passion is on sensitizing teens on mental health and illnesses and how best they can be handled.
"It's important to have people develop mechanism of handling mental health, to break stigma on mental health, make sure people are comfortable and can share freely the issues that they are going through," Katrina said.
"I was humbled by the opportunity to sensitize people about mental health; people look at mental health so differently, some think it is just made up and just dramatic, yet these are actual diseases that people are suffering and only need mechanisms of dealing with it," Katrina added.