The former Permanent Secretary of the Judiciary, Kagole Kivumbi who is now on forced leave has been accused of disregarding the Public Finance Management Act when he spent over 9bn on alleged travel of the Chief Justice and the Deputy Chief justice in different financial years.
The Parliament Public Accounts Committee (PAC) learnt that Kagole withdrew Shs9.57bn in the financial year 2017/2018 to facilitate the above activities.
The Judiciary had been led by Permanent Secretary Pius Brgirimana to appear before the committee to respond to the queries raised in the Auditor General's report for the financial year 2018/2019.
The committee tasked Kagole Kivumbi to explain how both the Chief Justice and Deputy Chief Justice were able to be traveling to Australia, South Africa and within the country in the same period of time.
The auditor general noted that the Chief Justice and his deputy undertook travels in Australia, South Africa and upcountry almost at the same time.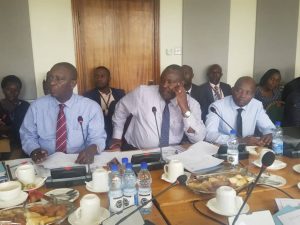 Reviewing documents availed to the committee by a whistleblower on alleged fraud and fictitious documents in the Judiciary under the leadership of Kivumbi, PAC Chairperson Nathan Nandala Mafabi noted that out of the queried 9.57 billion, he drew Shillings 32.2 million on the 28th June 2018 for alleged travel of the Chief Justice Bart Katureebe to Australia.
Nandala added that the documents also indicate that Kivumbi went ahead to draw another Shs29.8 million on 29th June 2018 for the Chief Justice to allegedly travel to South Africa.
The MPs questioned how Chief Justice traveled to two different places at the same time as well as carrying out internal activities.
In his response on the matters raised, Kagole noted that there could have been some typing errors in the dates of activities adding however that the activities took place and the money was used.
Kagole requested that the committee waits for the investigations that are being carried out on the matter by the Inspector General of Government (IGG) so as to pass a fair judgment to him.