The National Resistance Movement (NRM) Secretary General, Justine Kasule Lumumba has revealed that two keep staff members have tested positive to the deadily COVID-19 pandemic.
The ruling party boss made the revelation through her social media platforms noting the two officials have since been admitted to hospital for further management.
"This morning, two of our key staff at the National Resistance Movement – NRM Party Secretariate tested positive for COVID-19 and have been admitted to the Hospital for proper care," Lumumba posted on her Facebook page.
Lumumba noted that as such, the party is working with the technical people and further guidance will be given in due course urging everyone to stay alert, healthy and safe.
The development comes at a time when the party headquarters is frequented by many party members from different parts of the country to participate in the ongoing internal elections exercise.
On Tuesday, President Museveni appeared before the party Electoral Commission and he was nominated as the party sole Presidential flag bearer as well as the party National Chairman.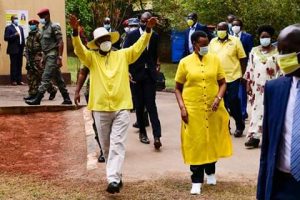 During his address, President Museveni further cautioned Ugandans against the deadily virus noting that the country has so far registered two death a signal that the citizens must do more to ensure safety from the virus.
At the same event, the President revealed that he had developed a soar throat and as such he offered himself to the test for the virus and fortunate enough he tested negative.
Currently, Ugada has registered a total of 1,140 cases of COVID-19.