The opposition Democratic Party (DP) has called for expeditious and independent investigations into the recent fire that gutted Makerere University Ivory tower building.
The Universitys main building caught fire on Sunday 20th, September 2020 leaving lots of property and documents destroyed due to the fire whose cause is yet to be determined.
In a statement issued by the party National Publicity Secretary, Enoch Okoler Opio, the party demanded that expeditious investigation into the matter be carried out so that those incriminated be appropriately punished.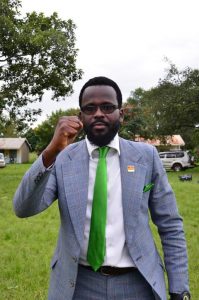 Okoler said that the party feels that the inferno at the University was as a result of negligence by those in whose custody the university lies who should be condemned, punished and culprits brought to book.
We continue to wonder! Could it be that the fire gutted the main building (Ivory tower) in the simply to be a cover up for accountability somewhere or it is merely a result of negligence on the part of the custodians of the University? Okoler wondered.
The party further demanded that let there be an established reconstruction plan by the Government of Uganda maintaining the original plan of the building since it has been a historical building.