The Ruparelia Foundation has on Thursday donated 240 hampers for the sick children at the pediatric ward in Mulago National Referral hospital.
The foundation was led by Naiya Ruparelia the Ruparelia Foundation trustee who was received by the Head of Padiatrics ward at Mulago hospital, Dr. Hellen Ahenyo.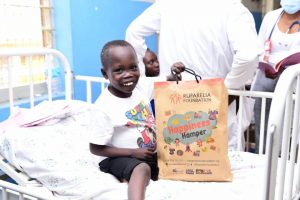 While handing over the hampers, Naiya said that this was done so as to put a smile on the face of the children that are fighting for their lives due to several ailments.
"This may look to be a small gift but it is aimed at encouraging and putting a small on these children. These are very strong children, it's amazing and some are really strongly fighting for their lives," Naiya said.
Naiya also noted that the foundation has been carrying out this activity quarterly but hopes to do it monthly once they get more donations from their partners.
"We shall as well be visiting other hospitals across the country to offer such aide once we secure more support from partners," Naiya said.
While receiving the hampers on behalf of the children, Dr. Hellen noted that this is a good gesture and a show of love and care to the little ones which will help in their recovery process.