The burial of the former Mayor Kampala City, Al Hajji Nasser Ntege Ssebagala has left some of government and NRM officials insulted by People Power supporters as their principal, Robert Kyagulanyi aka Bobi Wine looks on.
Al Hajji Ssebagala has be laid to rest on Sunday at his ancenstral home in Kisaasi but this day will never be forgotten by the Deputy Prime Minister, Kirunda Kivejinja who tested the wrath of the youthful supporters of People Power and National Unity Platform (NUP).
By the time of his demise, Ssebagala also known as Seya had joined the National Unity Platform political party prior to serving as President Museveni's advisor.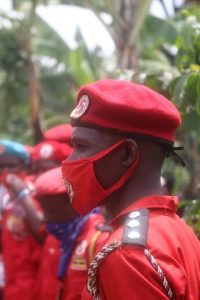 Chaos rose when the elderly Deputy Prime Minister was invited to address the mourners; before he could utter any word, the youth begin heckling him shouting that no government official should be allowed to speak.
Kivejinja was seen pleading to the youth to at least be respectful to the elders and accord him audience but these would not listen to him but kept speaking all words of insult while some nearly grabbed the microphone from him.
This all went on with a clear view of their principle Bobi Wine who simply cheered them up as they insulted the Deputy Prime Minister.
During the same event, President Museveni's Representative at the burial, Ambassador Hajji Abbey Walusimbi was also denied an opportunity to deliver Museveni's condolence message despite the family picking the contribution of Shs10m that was given for burial arrangements.
Aspiring Kampala Lord Mayor, Nabilah Nagayi during the burial
A source that attended a family meeting who spoke on conditions of annanyomity revealed that, after picking the money from Hajji Walusimbi, the family refused him from delivering the message that he had been assigned to deliver by President Museveni.
"The other family members were incited by Kawempe North Member of Parliament (MP), Latif Ssebagala who accused Hajji Abbey of having been President Museveni's spy who spied on the Late Seya for a long time," a source noted.
Another source added that Ssebagala went ahead threatening not to bury his brother in case Hajji Walusimbi is allowed to deliver Museveni's condolence message noting that Walusimbi was sent to spy on Seya in the prison in Boston in 1998.
The legislator further stood his ground noting that no government official shall be allowed to address the mourners as long as he is present.