As the world prepares to mark an commemorate the International Day of the Girl Child, Children under the High Sound for Children (HSC) a civil society Organisation have cried out to government and police to ensure that perpetrators of violence against girls are brought to book.
Uganda will on Sunday 11th, October be joining the rest of the world to mark the day of the girl child which was gazetted to amplify voices of the girl child and stand up for their rights. This day will be celebrated under theme; "My Voice, our Equal Future".
Stecy Acheng (13yrs) a member of HSC media club said that the day comes when the girl child is facing more forms of violence which are threatening to her future.
Acheng said that according to police reports, in Kitgum, Ngora, Kyegegwa, Kasese and Lyantonde districts alone, over 2,372 teenage pregnancies have been reported during the period of the COVID-19 lockdown.
"The perpetrators are on the run and those apprehended leave the girl victim in situations of being breadwinners of their uncertain young families. With their voices suffocated in state of manipulation and confusion, girls are not free from gender-based violence, painful traumatizing experiences but they are exposed to Sexually Transmitted Diseases most threatening, HIV/AIDs," Acheng said.
With 15 million children at home because of the presidential directive after the outbreak of the COVID-19 pandemic, many girls are left vulnerable to teenage pregnancy, early childhood marriage and temptations with gullible and disguising offers from intending criminals.
Joseline Apio (16yrs) said that what is so sad is that the girls are abused by those closest to them and no sufficient action is taken against the perpetrators.
Apio said that a way from the sexual violence, the experience many girls do not have access to basic needs in life including pads.
"Girls continue to miss classes during their menstrual cycle which creates gaps in their education and during these tough times, families must choose between buying food or pads for the girls," Apio said.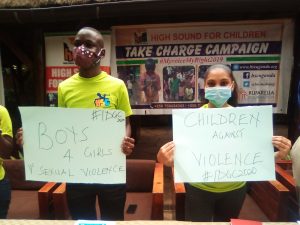 "As we celebrate the girl child today as members of the High Sound for Children media club, we call upon government and all partners to pay more attention to protecting the girl child and bringing the perpetrators to book to put an end to this abuse. We call upon fellow children to speak out whenever they are abused even by those close to you," Apio added.
HSC Executive Director, Hadijah Mwanje added her voice to request government and school administrations to create a good environment for pregnant girls to register and sit for final examinations.
"There has been a skyrocking trend of cases of teenage pregnancy and Covid has unveiled what we didn't know; we now know that the homes that are supposed to offer protection to children are actually traps," Mwanjje said.
Mwanjje thus called upon government allow children who are pregnant to go back to school as well as government expediting the drafted guidelines that will facilitate this process.
"We ask government to do a lot of awareness around this, we can't afford to lose the future of over 5m girls who have become pregnant yet the pregnancy is for a limited time; let the candidates be allowed to get back to class and register for their examinations," Mwanjje noted.
She as well called upon parents to always find time and speak to their children as a way of shaping their future other than leaving them to be nurtured by other players.