The National Social Security Fund (NSSF) has been awarded as the overall best integrated financial reporting company by the Institute of Certified Public Accountant under the 2020 annual Financial Reporting (FiRe) awards.
NSSF was handed the gold award for having presented an all-round integrated report and demonstrated a high level of adherence to the guiding principles and content elements of the International Integrated Reporting Framework.
The Awards Committee particularly appreciated the comprehensive explanation of the value that the organization has created for each stakeholder category during the period.
While commenting on the award, the Chairman Financial reporting awards Committee, Stephen Ineget noted that the report that was submitted by NSSF had an imaginative layout and the narrative was easy to read and follow.
Ineget said that the report also addressed the impact of the COVID-19 pandemic in a thoughtful manner, with clear perspectives and outlook for the future.
"The FiRe Awards Committee is satisfied that this organisation provided the most exemplary integrated annual report with clear commitment to the highest standards of financial and business reporting," Ineget said.
In his acceptance speech, Steven Mwanje the NSSF Chief Financial Officer appreciated the organizers and sponsors of the FiRe awards adding their involvement in the competition is so health since it enhances the uplifting of the financial reporting standards in the country.
During the same event, Stanbic Uganda Holdings Limited was also awarded the second best with a silver award of Integrated Report of the year.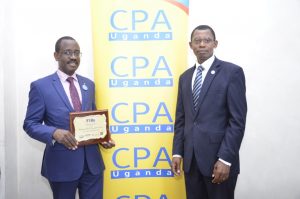 Stanbic is said to have presented an integrated annual report that was very readable, well organised and comprehensive in scope.
Ineget commented saying that the report showed a high level of creativity in the communication of information about the organization, providing insightful and fascinating explanations of the strategic direction of the organization and the key content elements of its integrated report.
The organisation's report was well executed and demonstrated a high degree of professionalism.
The FiRe Awards Committee was particularly excited by the way in which the entity clearly outlined its purpose of using its resources and expertise to create value for a wide variety of stakeholders.
Meanwhile, Centenary Rural Development Bank won a bronze award becoming the third best company in Integrated financial reporting.
Other winners in different categories included; Liberty Insurance, SNV Netherlands Development Organisation, Child's i Foundation, FINCA Uganda, Umeme limited, Reproductive Health Uganda, Bank of Uganda, YSave, Makerere University retirement benefits Scheme, among others.