Covid19 pushed me into thinking about diversification of business after it hit home in March that all the good projected business for this year was no more.
Isaiah Rembo had for years asked me to diversify into agro-processing but tourism was doing very well for us and we had grown over the last 19 years anyways.
I was a little stressed in March cause I had salaries to pay, businesses to maintain and the higher you go, the more expenses, the harder you are likely to fall. Thankfully, I had no bank debt, some savings when this happened in March.
I accepted Isaiah's idea of diversification and I needed to dig deep into how all this agro-processing worked. I thank God who has enabled me to make very many good contacts and networks. I consulted far and wide from people who practiced agro-processing. I didn't leave out those who tried and failed. I needed to know why!
Around April we started looking into the machinery to import and zeroed in on a good UK manufacturer. Am 47 years old and at this age, I can only be involved things that are quality. I have done business for almost 20 years and I know I expect good quality stuff from myself. I may never achieve that always but I give my best.
The idea of location was next and debated about several options and drove around, asked many people until we zeroed in on a border District I won't mention for now. I will mention it in my book in future God willing when I write it. After number of visits, we identity 16 acres outside town. We agree on 12m an acre with sellers.
As we were doing paperwork, a friend tells me the same border district had an idea of an industrial park and agro-processing was part of it. I make some calls and we were told these guys had been assigned to find people to do exactly what we wanted to do. They had tried for 5 years and found none. We were a God sent option to them they seemed to confess.
We met the first lot of important people and we realized we had to give sitting allowances to them. I painfully agree. They told us there was another set of important people to do a presentation to and we said fine. What time? 9am they said, we left Kampala 5am in a pickup. All this time we had agreed to pay ushs 16m per acre more expensive than land in similar distance. We wanted to enjoy the privilege of being in an organized place. We were willing to pay more!
We arrive before 9am and the honorable members drag their feet until 1pm without regard to the fact that we were business people whose time means money. This stuff isn't new to me so I cool down and engage. Do you have allowances for us they ask? Meanwhile these politicians are both opposition and NRM.
They are opposition during campaigns but one when it comes to the above money discussion. We start getting angry because the machines were being manufactured and we needed to start ground works. Lots of stuff was being done in the UK and all we needed to do floor for warehouses etc. The rest was assembling works.
I used to go parliament those days pushing for different things with different committees and was told a number of times, you tourism people think we can push your things on empty stomach. Those committees had people from the opposition and NRM.
Meanwhile months weren't waiting for us. I tell my other 2 partners we needed a plan B since machinery had started leaving the UK ( top of the range modern machinery). I suggested we engage Uganda Investment Authority which I had done lots of volunteer works for but never ever applied for an investment license and deep I was like they facilitate foreigners but anyways doesn't hurt trying.
We are talking 2rd week September, machines had started leaving the UK ( 8 forty foot containers of machines). We have invested our intestines as well for this to happen but no location. I approach the CEO Mr. Byensi and I explain my case and he says we have land in Soroti. Our desire is 20 acres and we are willing to pay but be in an industrial park.
Mr. Byensi gives me a number to contact but tells me, they can only give 10 acres. Am like fine. Are you sure you have the machinery and I say yes even bills of lading for the same. Apply for a license he says, tough paperwork but we do. We prove we have access to funds for works. I also talk to Rwakakamba Morrison and he says, if indeed you have invested in machinery, you will get free land, what?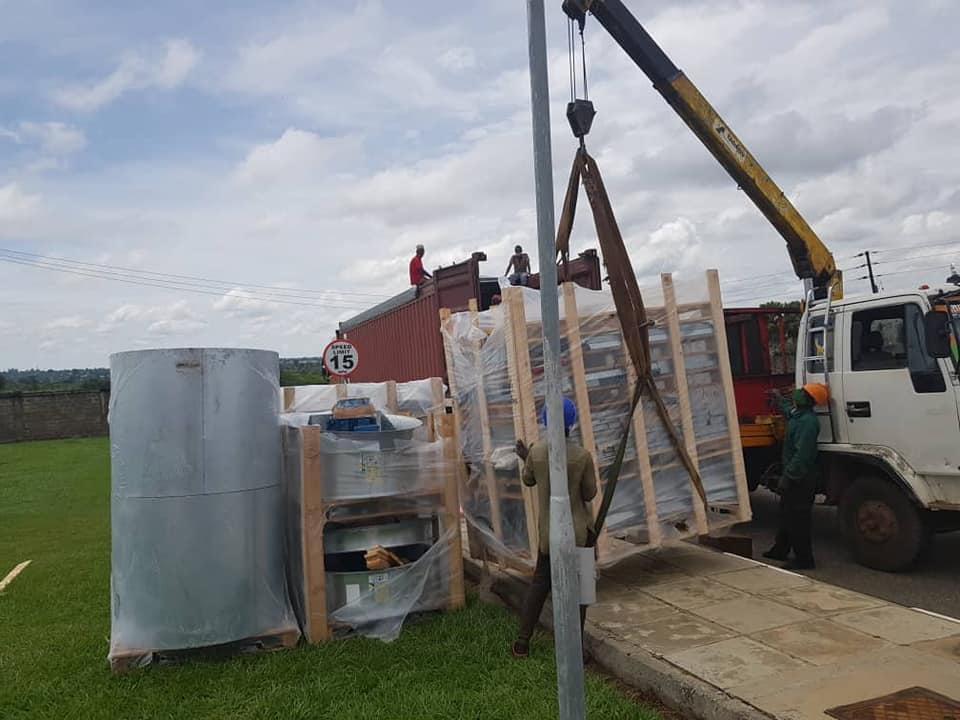 I tell him, we aren't jokers, at 47years I can't be playing around. Amos people come and ask for land and speculate on this land sadly he says. I get to learn that some foreigners and Ugandans had gotten land but done nothing( speculative acquisition). These people spoil for everyone of us and that's very bad. I had encountered same stuff in tourism, people got concessions but never developed them.
Anyways, the board sat, looked into our paperwork, saw bills of lading, our business plan and immediately allocated us land in Soroti. Been engaging lots of people, surveyors, EIA people, builders, material suppliers, machine hiring companies etc. Straight out of my heart, no single person has asked me for a bribe…paper work done on time etc.
What we are starting is transformative and if our 5 years plan goes as planned God willing, thousands of farmers will be happy with us. Containers have started arriving Soroti like you can see in the pictures.
TeJu have been good neighbors and hosting our stuff till our warehouses are up
You too can share your story or journey. Send it to editor@postdator.com.