As a way of mobilizing more support for President Museveni, the National Resistance Movement (NRM) Diaspora League has launched the NRM South Sudan Chapter and campaigns for the party president.
This was at a well attended function at Bros Hotel Riverside in Juba South Sudan's Capital presided over by the NRM Diaspora League Chairman who is also the Senior Presidential Advisor on Diaspora Affairs, Amb. Abbey Kigozi Walusimbi.
Amb. Abbey Walusimbi was representing President Yoweri Museveni who is currently on campaign trail seeking for re-election in the 2021 general elections.
Walusimbi was received by Uganda's Ambassador to South Sudan, Amb. Ronnie Balya, SPLM Leaders, NRM South Sudan chapter leadership led by Sandra Sarah Kamukama and Ugandan Businessmen leaders.
"I am here to launch the NRM South Sudan Chapter on behalf of His Excellency, Gen. Kaguta Yoweri Museveni, his busy schedule wouldn't allow him to be with us today. He assigned me to come and perform this duty on his behalf," Amb. Walusimbi told the gathering.
Walusimbi noted that President Museveni is appreciative for the work that Ugandans in South Sudan are doing and he urged them to remain united, ethical, disciplined, peaceful, cooperative and hardworking.
"We kindly request that you all respect the laws of the Republic of South Sudan, and to cooperate with everyone here so that we grow and prosper together as One African Family which are the fundamental values of NRM," Walusimbi said.
Walusimbi congratulated the new NRM South Sudan Chapter leadership led by Sandra Sarah Kamukama welcoming them in the field of service.
"Our Chairman and Secretary General are requesting you to work together and to help us mobilize, inspire, support and register Ugandans here to become NRM party members. We pray that this structure and secretariat help us mobilize the much needed support for the re-election of our party Chairman in Uganda who is dedicated to secure the future of everyone; and to without fear foster regional peace and economic stability," Walusimbi said.
Walusimbi reminded the chapter leaders that the leadership role they have been given is an opportunity to implement NRM Vision and Values in the region.
"I want to remind you that, the NRM party continues to enjoy massive support and endorsement from every part of Uganda and around the world. This is because it is a true pro-people party with a clear and principled agenda of ensuring the safety and prosperity of all Africans," Walusimbi noted.
He noted that NRM's regional and countrywide grassroots appeal draws both young and old to advance the party's core principles of Democracy, Patriotism, Pan-Africanism and Socio-economic transformation.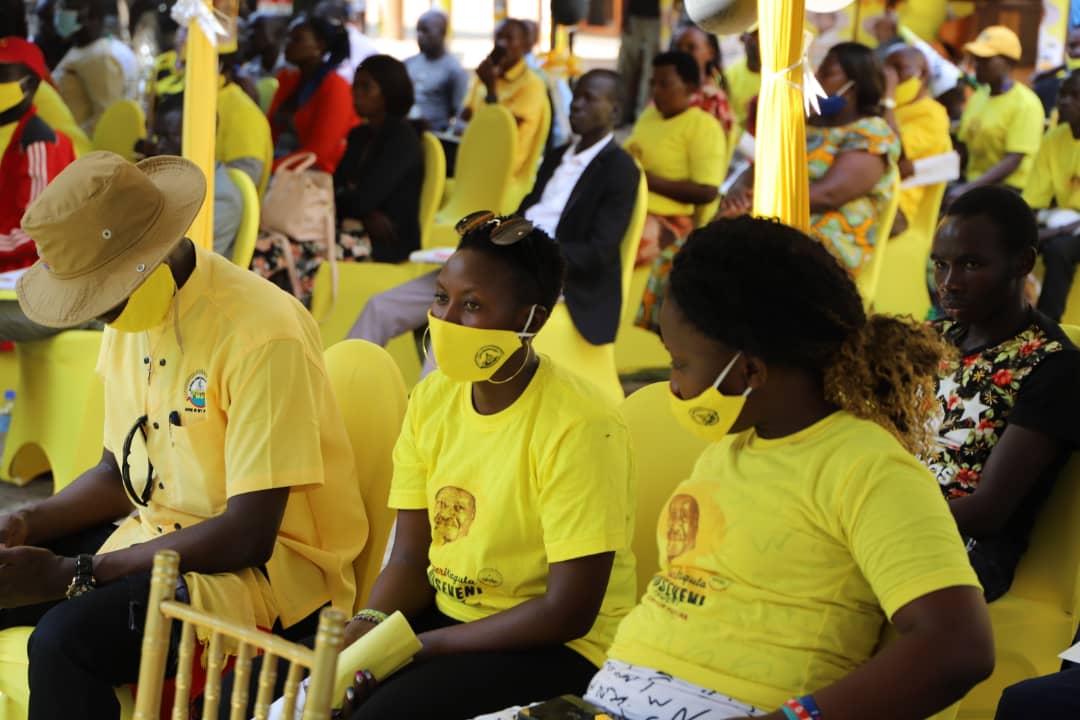 "The leadership of NRM has transformed Uganda into a stable and democratic country, which fosters and protects the people's fundamental right to choose their representatives in a free and fair election every five years."
On his part, Amb. Ronnie Balya commended and appreciated the excellent voluntary efforts of the leaders and all members of the NRM South Sudan Chapter for the wonderful political mobilization they have conducted.
"I urge you to continue with that positive spirit which will ensure a united, stable, secure and prosperous Uganda and the whole region. I further urge you to continue working as a team," Amb. Balya said.
Amb. Walusimbi later on held a meeting with H.E Dr. James Wani Iga the 2nd Vice President of the Republic of South Sudan who is also the Deputy Chairman of the SPLM party at State House in Juba.
Others in attendance were the SPLM Secretary General, CDE Jemme Nunu Kumba, Deputy Secretary General, CDE Santo Malek Anai, Secretary for External Affairs, CDE Bol Nakueng, Undersecretary Ministry of Parliamentary Affairs, Afram Wani Lamindot, Deputy Chief of Defence Forces and the Director General, National Security.
The meeting was aimed at cementing a clear and formal working relationship between the two ruling parties of the NRM and SPLM, link officially the strong NRM South Sudan chapter to the SPLM structures to facilitate the chapter handle its mobilisation for Ugandans close to 1.5m living and working in South Sudan to travel back and vote for their President Museveni come January 14th, 2021.
The meeting was also used to address a number of problems that had earlier been pointed out by Ugandan professionals working in South Sudan.