This loan is only available to you now. Here is why.
Stanbic bank Uganda has designed a secure, simple and convenient way to settle a quick personal loan. Everyone understands the impact of Covid-19 pandemic to everyone around the world and it still exists, and many people still experience financial crisis in their times of operation. This campaign is aiming at helping Stanbic customers resolve their financial needs affected by Covid-19 pandemic.
Is this loan suitable for me?
No problem, Stanbic bank is here to settle your financial worries. #NowNowLoans campaign will offer personal salary loans, cash advances, unsecured and overdraft loans at an interest rate of as low as 15.9% based on your loan assessment. This is currently the cheapest in the market and it is valid till 31/May/2021.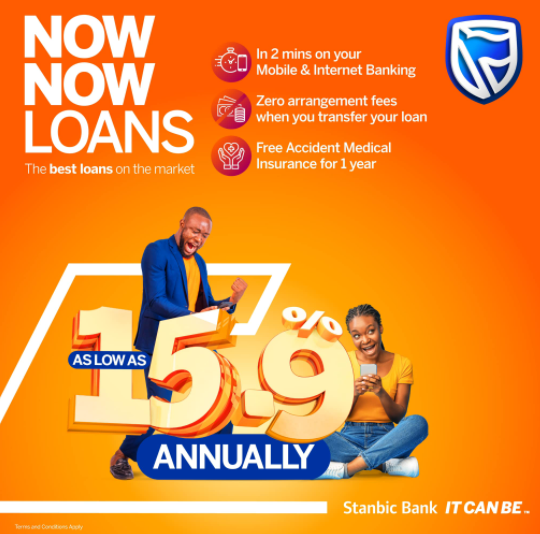 So, How do I secure this loan in a short period?
Its quite simple, you should have an account to qualify to process a loan after maintaining the account for at least 3 months. You can conveniently open an account online with no hustle, all you need is a valid national I.D and selfie from your smartphone camera.
Can I get a business loan with the #NowNowLoan campaign?
Sorry please, the #NowNowLoan campaign is designed for those in need of personal loans.
Emanzi Jackson – Head of Lending Products: Customers acquiring the loans through the mobile and internet banking platform will enjoy an annual complimentary personal accident insurance cover and also get a chance to enter the monthly draws to win a variety of packages which include; school fees, fuel, shopping and dinner vouchers.