Civil Society Organizations (CSOs) have called upon Ugandans to rise up and increase their participation in health-related decisions especially in improving Primary Health Care (PHC) in the country.
The call was made during a CSO stakeholder round table dialogue on promoting community participation to improve Uganda's Primary Health Care system organized by the Uganda Youths and Adolescents Health Forum (UYAHF).
During his remarks, the UYAHF team leader, Patrick Mwesigye noted that community participation is a foundational principle and pillar of PHC with widely reputed benefits.
"The benefits including improved health outcomes, equity, service access, relevance, acceptability, quality, and responsiveness. Additionally, a community participation approach to primary health care is a cost-effective way to extend a health care system to the geographical and social periphery of a country," Mwesigye said.
Mwesigye said that communities that begin to understand their health status objectively rather than fatalistically may be moved to take a series of preventive measures.
"Communities that invest labor, time, money, and materials in health promoting activities are more committed to the use and maintenance of the things they produce, such as water supplies," Mwesigye said.
Mweisgye observed that health education is most effective in the context of village activities; and community health workers, if they are well chosen and have the confidence of the people.
He noted that efforts to foster mechanisms for increasing effectiveness of community participation in local health systems are required today more than ever to foster transparency, accountability and give individuals and communities a voice in health-related decision making at the local and national level, with an overall goal of creating strong PHC systems.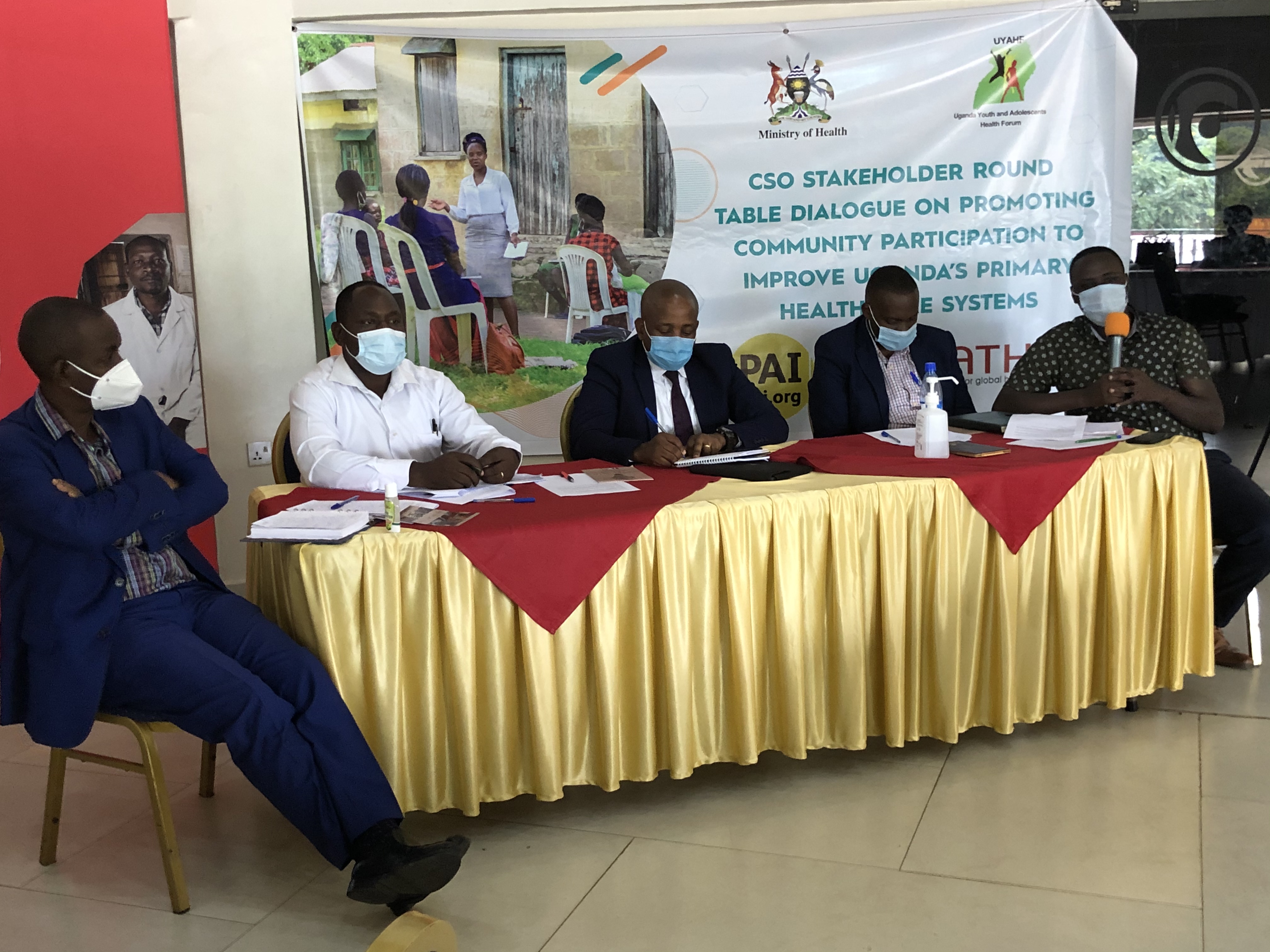 It's the responsibility of government, CSOs and other stakeholders to work towards improving community participation in health-related decisions.
Dr. Jonathan Wangisi, the Mbale District Health Officer (DHO) noted that government is willing and has worked with other stakeholders to ensure improved community participation especially in access to Primary Health Care.
"We know and we believe that we are obliged to deliver quality Universal health services to our people and this is what drives our programming, though we understand that we don't have unlimited resources which has stopped us from directly reaching every member of our population," Wangisi said.
The government believes in complementary services from different partners such as CSOs, Faith based organized as well as private health facilities so as to serve Ugandans better.
During the dialogue, it was agreed that the different CSOs championing Universal health coverage must form a coalition through which they will coordinate programs so as to effectively engage the communities and duty bearers.