The Management of Victoria University in Kampala led by the University Director and city tycoon, Sudhir Rupareria has announced the reduction of tuition fees in an effort to ease financial pressures on students and their families brought about by the COVID-19 pandemic.
The University management has reduced fees structure on all courses by 50% for existing, returning students and new students going forward.
Even those on different scholarships will enjoy the fees cuts including both local and international students.
The development follows an outcry from both parents and students calling for reduction in tuition fees given the fact that many are now facing economic hardships following the lockdown measures that were announced in the fight against the deadily Coronavirus.
Speaking during the announced reduction of the fees structure, Dr. Sudhir Ruparelia the Managing Director Victoria University noted that as the economy took a back stage, Ruparelia Group decided to come out and support the communities by reducing tuition fees by a half.
"This pandemic is not only for today, it will be here for the next 2 to 3 years so the fees structure will remain stable for long time to come and we will review it in consultation with students' body, university council and the market but I don't see us raising fees for the next 2-3 years" Sudhir said.
He added that "We want to provide an affordable education because the economic situation of the country is not going to be good so we are going to support our communities."
Speaking at the same function, Rajiv Ruparelia one of the University directors noted that the decision was taken to help Ugandan and international students get affordable and quality education.
"The decision to reduce the tuition fees was taken because of the global pandemic that has come in. We at Victoria University believe that quality education should be affordable to Ugandans and international students," Rajiv said.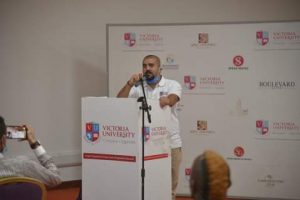 He added that this is also away of giving back to the community by offering reduced affordable high quality education.
The University Vice Chancellor Dr. Krishna Sharma said the university is ready to commence online teaching adding that all the issues raised in the guidelines by NCHE have already been in place at Victoria University.
He added that the online classes will be conducted at no cost while those who will not be able will be provided with printed content for self-study.